There are several ways to turn a bad indoor air into a good one. It all starts with the design of the building, the choice of high-quality building materials and good execution. Proper ventilation control may be a sufficient measure to improve indoor air quality, but sometimes repairing materials and structures may be necessary. The lack of oxygen in the air alone can cause symptoms that are thought to be a severe indoor air problem.
Contamination should be removed before it spreads
Emissions of human origin cannot be influenced by the choice of structural materials but by adequate and correct ventilation, which is directed mainly to where people are. From an energy point of view, it would be important that ventilation was used according to the real need and that contaminants were removed before they have time to spread throughout the space. Adequate cleaning is necessary to remove dust from the surfaces, which collect contaminants. Dust can also act as a breeding ground for microbes.
If necessary, low-emission substances can be used for cleaning, and smoking should have its own particularly well-ventilated facilities or be banned altogether. Planning the time of cleaning is important because air pollutants are at their maximum during cleaning. Ventilation after cleaning is important, as is the filtration of the exhaust air of the vacuum cleaner. If using a central vacuum cleaner, the contaminants go out directly.
The choice of material is of great importance for air quality
The importance of building materials and coatings for indoor air is great because they usually have a large surface area. M1-rated products are recommended often for material selection. In addition, it would be important to find out whether the materials may also emit VVOCs (highly volatile organic compounds) that are not covered by the TVOC or the M1 classification. Basically, it is a good idea to avoid smelly or odorous materials.
During the construction phase, it is important to protect the materials from the weather and contaminants. Correct chemicals, such as adhesives and paints, must be used in their installation. New materials typically release elevated concentrations into the air for some months, which is why enhanced ventilation may be warranted six months after the renovation or completion of a building. There may also be clear manufacturing defects in the materials: for example, failed chemical processes have resulted in styrene emissions.
Difficult to remove certain emissions with ventilation
Microbes and asbestos cannot be removed from the building by ventilation, and repairing actions must be considered. It is also possible to encapsulate asbestos in an airtight manner. Adequate removal of some interfering chemicals, such as naphthalene and 2-ethylhexanol, from the air by ventilation alone can also be difficult. These compounds can be bound to the structures by gas-tight encapsulation, thereby no longer entering the indoor air. To prevent mineral wool fibers from entering the room air through the structures, the joints should be tight and the ventilation ducts should be cleaned.
Pollutants in the outside air cannot be controlled by ventilation alone, as they enter the building. Filtration of air usually gives good results. Fine particle filters can remove dust and soot from the outside air, but more expensive solutions, e.g. activated carbon filters, are often needed to remove hydrocarbons and other VVOC and VOC compounds. Fresh air vents should be located high enough so that traffic emissions and other pollutants do not enter them unnecessarily easily.
Local air purifiers when it is difficult to get clean indoor air
Experience shows that it is often not possible to get sufficiently clean and healthy indoor air through ventilation systems, even if these have integrated filter solutions. An effective solution is then mobile air purifiers such as Genano's solutions. They can be easily placed in larger premises and smaller rooms in the number required to meet the requirements for clean air. These air purifiers can be used to effectively remove a variety of pollutants, unwanted particles, microbes, VVOCs and VOCs.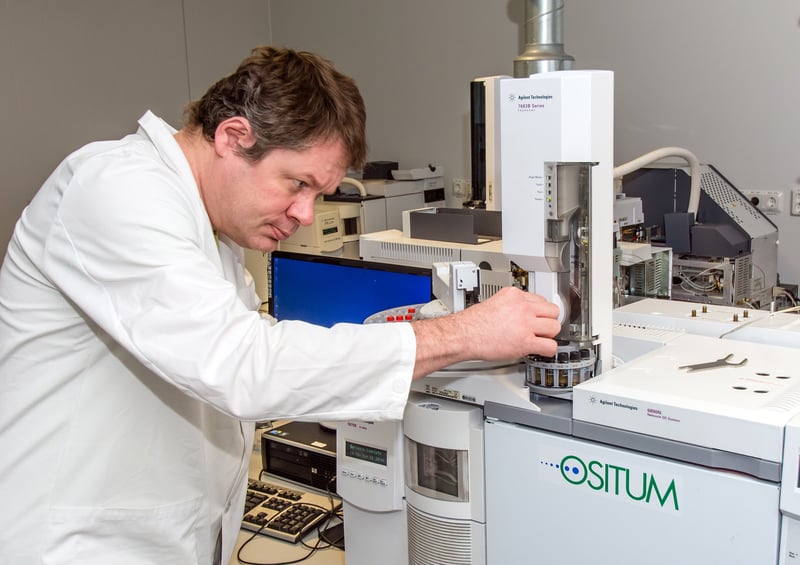 PhD and Laboratory Manager Juhani Kronholm at the Ositum Laboratory, Fin
About Ositum Oy and Juhani Kronholm
Juhani Kronholm's work at Ositum Oy in Vantaa includes the use of environmental applications and techniques to determine indoor air quality (e.g. VVOC and VOC compounds), material emissions (FLEC analysis) and hazardous compounds (e.g. PAH, PCB, asbestos, metals). The main tools for the determination of these compounds are SEM-EDX, TD-GC-MS, GC-MS and MP-AES techniques. Juhani Kronholm and other experts in Ositum Oy are also responsible for further development of various techniques and analytical tools. Ositum Oy has been involved in more than 30,000 projects related to indoor environmental issues over 20 years. The company has built a unique database application for reporting analysis results on VOC and VVOC emissions, among other things. The database contains around 600,000 records that facilitate the interpretation of the analyses performed.